Morning Walks with Molly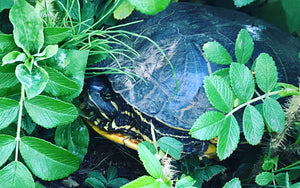 Morning walks have been part of our routine since Molly came to live with me. She's been a wonderful girl to walk with. Before adopting Molly from the Oregon Humane Society in 2013, I regularly walked and jogged the lake nearby my house.
Now, however the morning walks belong to my girl. I am grateful for this little dog every day. She came to me when I was grieving the loss of my mom. I feel like she really saved me and brought me back to JOY and loving life again.
So, yesterday we were at the lake and just in the corner of my eye, I spotted a small thing moving. I turned just in time to see this turtle scooting into the bushes. I just love seeing animals in the wild and adore turtles! She tucked her head in mostly but we managed to see her face before leaving. What a blessing!