Upcoming and Projects In the Works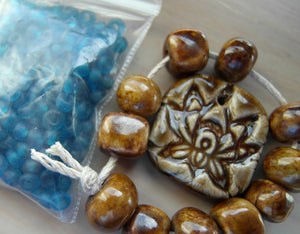 I thought I'd share some ideas I have for new jewelry. My studio space right now, is scattered with beads and ideas are flying off the shelves!
Sometimes I wish there was more of me to work... but then that's part of why Art and Soul Jewelry is special. It's one of kind, or small run production of two or three. You know you are getting something no one else has. Something you wont find in any department store.
I was approached some years back to design for a company. The idea was that I would make the designs and they would send them to China to have them mass produced and then market the items in the USA and sell to big name stores. Nordstrom's was on the list.
I thought about it long and hard and there was nothing inside of me that wanted this for myself. I don't know now. Looking back, did I do the right thing in declining? I have to believe I did. I am on the path I made for myself and I embrace it.
Top to bottom: Handmade ceramic Lotus pendant with matching accent beads finished with a two step glaze. Mottled Brown over Gray. Paired with bright blue African glass. I'm thinking a shorter necklace for this set... maybe 17 inches. I may leave out the ceramic accents. I will see how it lays.
A square pendant. Handcrafted from white ceramic stoneware. Glazed in Cameo Pink and fired to 2232 degrees. Matching round accents and an assortment of Artisan Lampwork in various colors. I imagine the same design for this set. Something shorter, a necklace wrapped in silver wire with some forged silver rings.
Stay tuned!