Cleaning Copper Hoops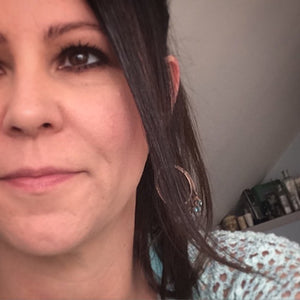 You see most of my jewelry laid out on a white marble background or rustic piece of drift wood but hardly ever worn or being modeled. I want to change that! I wear my jewelry pretty much daily. I have a few pieces from other artists that I *adore and cherish and a few pieces from the jewelry store... but honestly, I wear my own jewelry the most for a couple of reasons.
One, I have more Art & Soul Jewelry than any other brand, so I am bound to pick it more often!
Two, It's my style. I make jewelry that I want to wear. I use materials and components that I love. It's a no-brainer!
I want to show you what I am wearing, and how it looks. I will be posting (randomly) pics of me and my jewelry. You don't see a ton of Cindy selfies online or on my page. I don't enjoy taking photos of myself. I have never wanted to be famous. So you may see half a face or a blurred out face. However, you will definitely see jewelry! That I can promise.
First up! A pair of copper hoops. I picked these out to match my green sweater (from Target!). Perfect! I love copper & green! However, they were filthy and tarnished. (sad face) 
Here you can see how they started out, very dark. Copper is going to do this. There's no way around it. If you have copper jewelry that doesn't look like this, it's coated. It has some sort of coating on it. I don't coat my metals for a lot of reasons I wont get into now.
No problem! I have Pro-Polish pads and steel wool! Either one works great! If you want a brushed finish, use a very fine steel wool. 0000 works great for a light brushed look or 000 works great for a little more texture.
I wanted to show you with a video. So much easier to see with a demonstration. Sadly I was unable to find my tiny tripod for my camera. Today, I have only photos to share. I hope this does the job!
Okay, onward!
I started out using the Pro Polish pad.  I cleaned the ear wires with gentle pressure and supported the wire with my finger.
The Pro Polish pads are not rough enough to take this tarnish from the copper. I switch to the steel wool after cleaning the hooks. Now I can start to see part of the raw copper shine coming through.
Notice the dark and shiny copper... you can tell where I have cleaned and where it still needs polished.
It's not a huge difference really. I like to wear clean jewelry. I like knowing it's clean and that it has some sparkle left to it. I enjoy having that bit of glimmer peaking through my dark hair. It's a matter of taste. I see nothing wrong with a rustic look. That's not what I am going for here though.
And finally here is what I ended up with and where I stopped. I still have some oxidized metal and especially around the wire wrapping where it's almost impossible to get around with steel wool. And that's okay! That's what I want! I want some oxidation. That is what we like to call "antique finish". Perfect! And it only takes a few minutes!
A few side notes:
Do not breathe the dust from steel wool. Keep the jewelry away from your face. You can also wear a bandanna, like a western bank robber! I do that sometimes when I clean the house.
When using steel wool, hold your items over a paper towel to catch loose residue. You can also hold it over a garbage can. However, I often drop what I am working on so I don't recommend it.
Once you have finished, rinse the earrings with some water and wash the hooks with a mild, anti-bacterial soap. Pat dry with a clean towel.
You are done!
While I don't have this particular set available for purchase, I do have other hoops that are ready to ship if that's what you are looking for. See all my hoops here: Hoops
Any questions? Yes please! Happy cleaning!